Chalantika gives children like little Nur a chance for a better life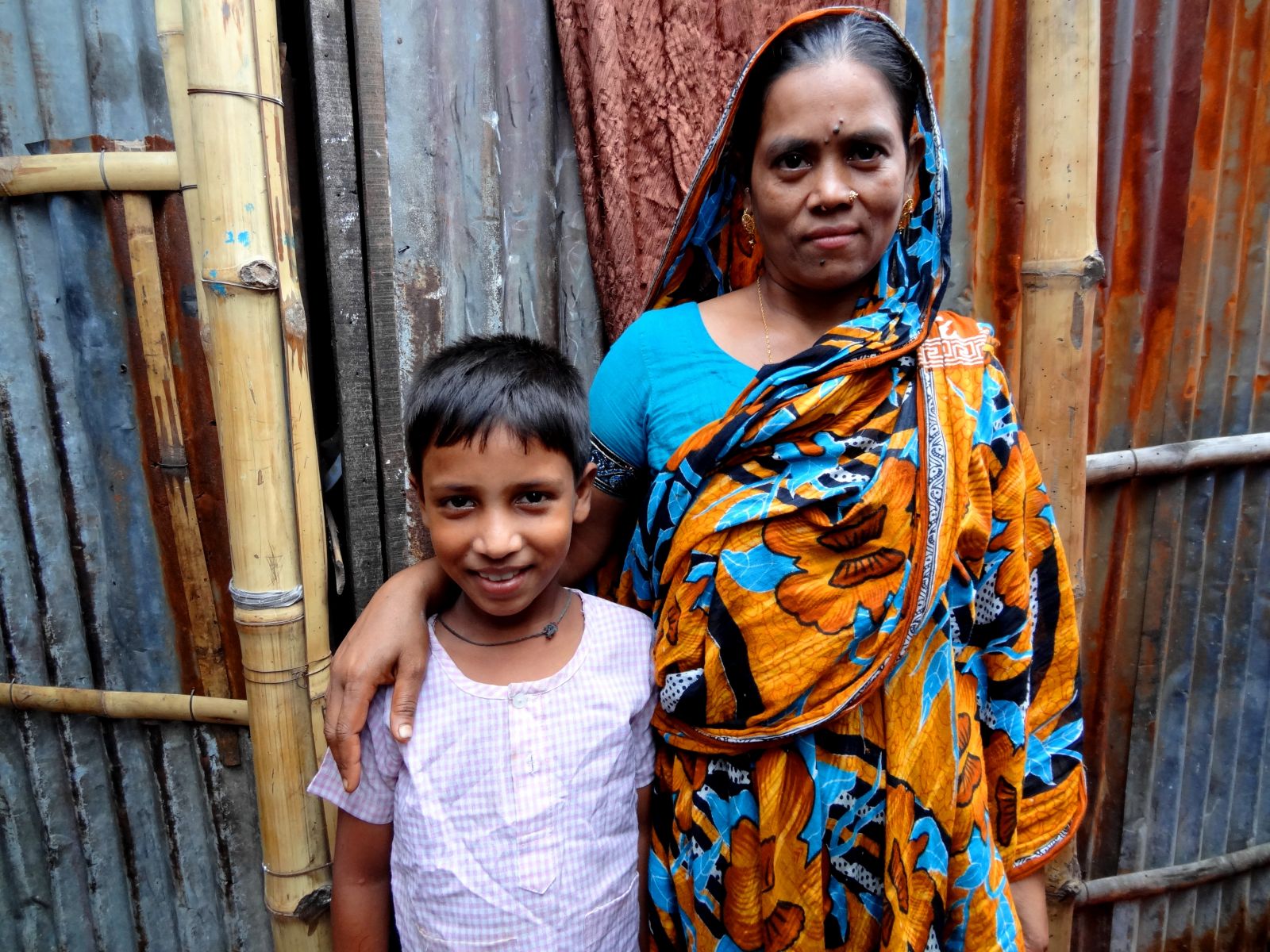 The childhood of now sever-year old Nur had been far from the ordinary childhood of the majority of Czech children. His family had lived in poor conditions in Bangladeshi metropolis Dhaka. The situation worsened further when his father brought in his new wife and he stopped looking after Nur and his mother Maina. His stepmother did not like Nur or Maina and she always let them know. One day she decided to do something dreadful. She tied little Nur into a bag and threw him into a pond to drown. Luckily neighbours saw it and saved him. However, it was clear he and his mother could not stay in the house – they left and found a new home in one of slums in Dhaka – in Chalantika.
Life in a Chalantika slum
Chalantika is one of about 5,000 slums in the capital Dhaka. There live more than 12,000 people, each family lives in an area of 5-10 m². The slums are built on a marshy surface, and small, poor shelters are made of metal plate, bamboo, and plastic standing on a bamboo scaffold in water, one closely attached to the other one, row by row. Moreover, the waste water runs down here from the surroundings. Families share latrines, they bring water (not potable) in barrels from several locations spread across the slum, they cook on open flames. The rent in the slum is very high, despite the poor living conditions – families pay from 1,500 – 2,500 Bangladeshi Taka (approximately 390-650 CZ) for each single flimsy shelter.
On the arrival to the Chalantika slum, Maina found a job in a textile factory. She earns almost 4,000 Taka (1,030 CZ) in a month, despite working hard at the full time job. She leaves to work early in the morning and returns late in the evening. Nur sees her only in night, he stays with relatives and neighbours during the day, in return to it he helps with house chores.
Place where children are allowed to be children
When ADRA opened Chalantika centre for education and free time activities in 2013, Nur was one of 50 children who were selected by ADRA workers to attend the centre. Children learn to read, write, calculate and think independently, and they gain basic social and hygienic habits. The aim is to prepare children for a year in the centre, to prepare them for public primary school attendance, in hopes of seeing them finish at least the primary education successfully.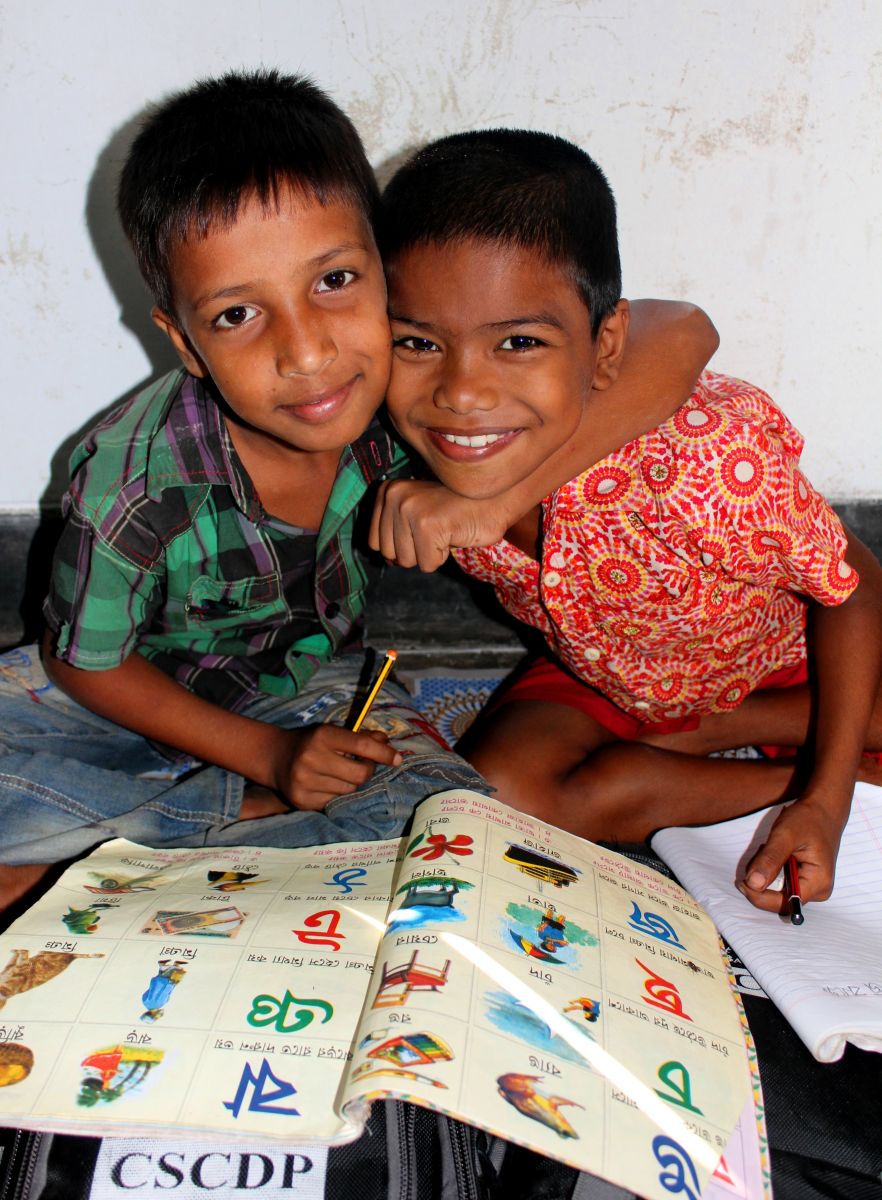 "Nur gets up early every morning, happy, to be allowed to go to school. Moreover, he picks up other children from the slum and urges them not to arrive late," Maina narrates with enthusiasm. Maina never went to school herself. She can only sign her name. She is very grateful for the opportunity her son has. "On the first school day he went to bed with his school bag. He was so proud to be a pupil," Maina added.
Nur likes learning and he enjoys playing with friends. Teachers praise him for being hard-working, and attentive, and he never misses a class. He is especially good at sports and painting. When his mom returns late from work, he recites poems for her and sings songs that he has learnt that day.
"I want to learn to read and write to be able to work in a big office one day, to wear nice clothes, to eat well and earn money," the seven-year old boy explains. "I do not want my mom to need to work so hard. I want us to be able to move to a better place. We have only one another and I want a better life for her," Nur confided..
He has already successfully applied the things he's learnt at home. He has taught his mom to wash her hands properly with soap or to cover rice after meal. They both are very grateful for the opportunity Nur has. "I am glad that Nur has somewhere to go when I am at work. I am also happy that he receives education and good nutritious meals. Our life has changed dramatically," Maina says, thankful to the Czech Republic for both things.