9.10.2018
Good-scooter on the way through Asia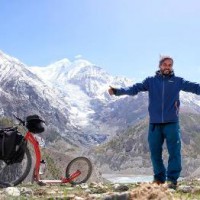 From time to time someone knocks on the door of the ADRA who has a good idea of ​​helping others. We have the door open and we love to hear everyone who has a plan. One such good soul was Marek Jelinek. He came and said that he would be glad if his future advature could get another dimension. He said he saw some of our video about Bangladesh, and he would like to visit local schools and help the children we support there. And then it came, "I'm going to drive through Asia with my scooter." You should see our expressions. But we did not even know that Marek had gone on a scooter continent.
The word gave a word, and a project was born before the eyes, which later became the name of the Good-scooter. His scooter is no longer just such a scooter and it can help children in one of the world's poorest regions to meet their dreams. Marek is already filling his.
We warmly thank to all the partners and sponsors involved in Mark's adventure. We also thank Pavel Liška and Petr Fiala for the shooting of the trailer and Petra Římalová for the camera and editing. Last but not least, all the people who decide to support the project. Without you it would be just an ordinary scooter.
You can also visit website of Good-scooter, see how is Marek's journey doing and help and support our education centre in slums of Chalantika.